I got my scarf...and more!
Late in the week I received my ISE package. Inside was the most beautiful scarf and fingerless gloves (a nice bonus!) plus some other goodies. My pal was Lori of
From the Wool Room
.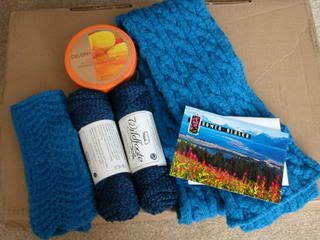 The goods: a lovely cabled scarf and fingerless gloves; 2 skeins of Wildfoote Luxury Sock Yarn (spun by Brown Sheep Company) in color ELDERBERRY; a lovely postcard from Alaska; and some lovely mango body butter.
There are more photos on my
blog
.