Thank you, Emily G!
I have been checking my front door daily to see whether my scarf has arrived, and for a whole week, there was nothing. Today, when I got home, there was a box on my doorstep, and the customs declaration said, amongst other things,"scarf".I knew it had to be from my ISE pal.
And it was!
This is what I received: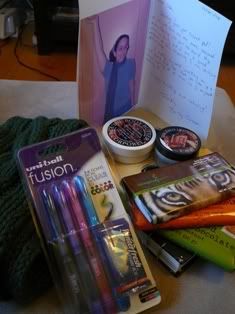 Wowfactor for me was HUGE. Further details of teh scarf can be seen on
my blog
. It's made from a gorgeous chunky green yarn that is oh so soft. It's not a particularly cold day here today, but I have been wearing it round my neck because it's so cushy and so nice.
Thank you,
Emily G
. I love my package!